Solheim was born in 1911 in Bergen, Norway to Herman and Ragna Koppen. The family emigrated to the United States in 1913 and settled in Seattle, Washington. After World War II, he continued his engineering studies at the University of California.
Karsten took up the game of golf at age 42 after moving to upstate New York with his family. He quickly took to the game and realized shortly after that putting was his main problem. So Solheim designed a revolutionary putter that attached the shaft in the middle of the blade, rather than the heel of the blade. Solheim moved to Phoenix shortly after and began manufacturing golf clubs in his garage.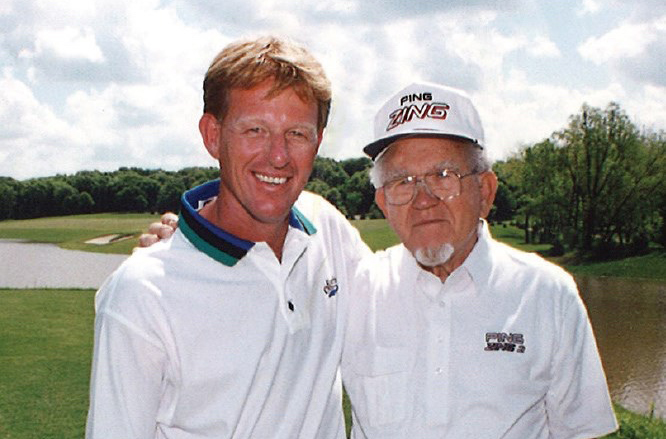 Mike Holder and Karsten Solheim
Julius Boros won the PGA Tour's Phoenix Open, using Solheim's "Anser" putter in early 1967. Later that year, Solheim launched Karsten Manufacturing, makers of the PING brand of clubs. In 1969, he introduced irons based on the same principle of perimeter weighting. The company enjoyed brisk sales until a dip in revenue in the mid-1970's.
Solheim had the idea to get some good college players to use Ping clubs and maybe get acceptance at the amateur level. Some of those good college players are going to play the tour, so maybe they will want to keep playing them," Mike Holder, former OSU Athletic Director explained.
By the early 1980s the Cowboys were PING-equipped, helping bring the program closer to the reality of having its own training ground via Holder's relationship with Solheim. Having donated over $4 million toward the construction of the project, it is clear why the course bears the Karsten name.
"We wouldn't have the golf course if it weren't for him. I think his generosity and his equipment led to a lot of our success. It was a great partnership because I think we helped them sell a lot of golf clubs," Holder said.
Solheim went on to create the Solheim Cup, the biennial tournament between teams of women professionals from Europe and the United States, which was modeled on the men's Ryder Cup, and was first played in 1990.
Shortly after the inaugural Solheim Cup, Karsten Solheim developed Parkinson's disease and in 1995 he handed over his company to his youngest son John. He died at the age of 88.